The Innovator's Gift on the Other Side of the Fog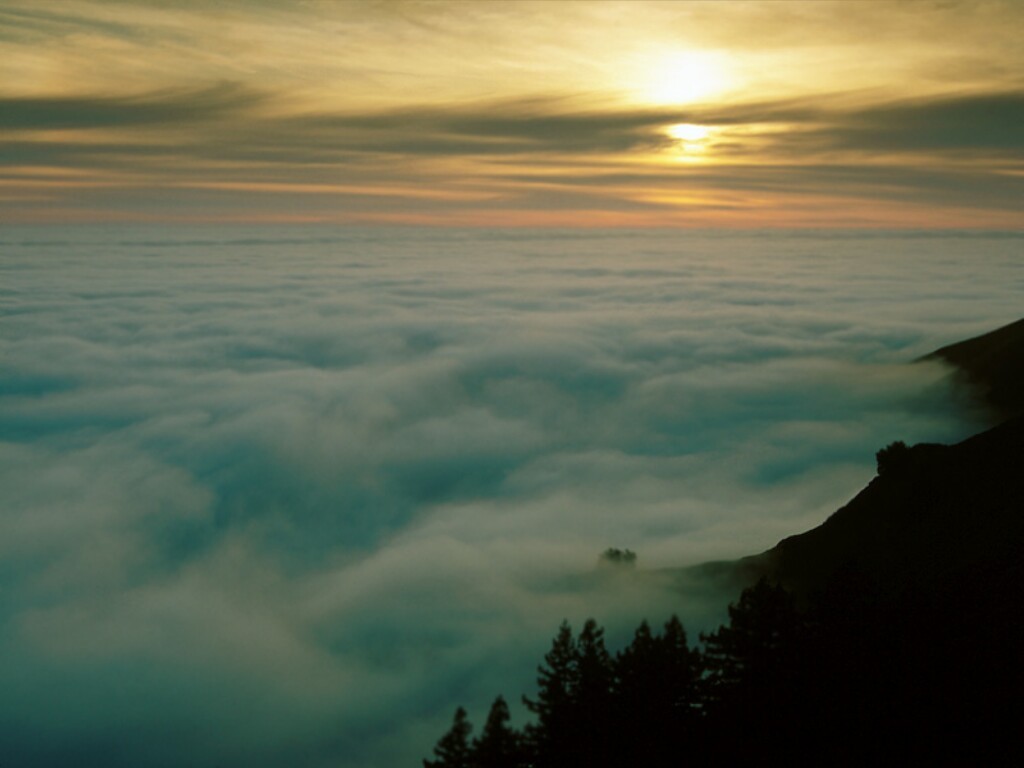 "We must walk consciously only part way toward our goal, and then leap in the dark to our success."  – Henry David Thoreau
Sometimes we have to leap. And sometimes we have to sit still. And more and more, I find, the power of life is knowing the difference. I had a powerful reminder recently relating to the road of the innovator that I'd like to share.
My wife Ahri and I moved our family to Ashland, Oregon six months ago to optimize our life, our health, our family time, and our businesses. We had found that after two decades in the Bay Area, we really needed a place to recharge and renew, to find a new place that we can call home. Our first few months of finding a new house, setting the kids up in their new schools, and adjusting to more work travel were full-force but relatively unimpeded.
Until last week.
I was sitting in SFO by myself after a long family trip to Chicago. I'd already been delayed 10 hours, and had put Ahri and the kids on the previous flight out.
As I was readying to board, the United attendant got on the loudspeaker. "We're taking volunteers to wait out the flight. You'll get a $1,200 travel voucher each, and a flight out tomorrow afternoon."
I happened to be on the phone with a friend and advisor, who lives just down the 101 freeway. He said, "Great, come stay with us. Beer's cold!" My arm inadvertently began to raise. My old traveler self thought, grab that 12 hundy!
But as other passengers swarmed to the gate, I paused. "We've had two flights had to turn back to SFO from Oregon because of the fog," the gate attendant continued. "So we need to carry more fuel just in case we have to turn back."
Ugh. The fog. Extra fuel. It shocked me back to my realities: a new year to kickstart, the possibility of further delays. I watched the other passengers waving their boarding passes. My younger self reluctant, I let them pass. I needed to get home. My new home. I needed to get on that plane.
An hour later, we approached Medford from above. The pilot's voice got on the speaker, "We still have 1/4 mile of visibility, so it should be okay to land."
Okay? I looked down and saw a few mountains poking up above a vast fog cover. After so many years in the Bay, I was used to fog. But this was something entirely different. I couldn't see anything! This was a thick blanket. But no one was asking my opinion on flight plans. Suddenly, we dropped down. Down, down, down into the white nothingness. I braced myself in case that we suddenly were going to sail up again. But then, in a flash, I saw cars 50 feet below us on the highway. And then bounce, bounce, bounce, and a smooth landing.
But not home yet. Next came 50 feet of visibility in the fog as I inched my way on the road to Ashland, clenching the wheel. Where did we move again? I thought to myself.
Only then, as I turned up to our street with the mountains as a backdrop, the fog finally cleared. I exhaled. I realized I had been holding my breath for an hour.
And as I did, I realized something else. And that's what I want to share with you.
Sometimes, you have to fight for it.
It's funny, I don't usually identify as a fighter. Still, the message was clear:
Sometimes, you have to fight for it.
To be an innovator in this world, to walk a path that is yours, to optimize your life and your work, to bring a powerful story to the world, sometimes you have to fight for it. Again and again, you will have to leap in the darkness. It's not an act of force. It's an act of mystery. Of faith. Of breath.
So I pass this on to you. This year, as you step into new territories, as you face, again, the 'down-going' as Nietzche called it, bringing you down into a place of discovery, you may well find that place that Joseph Campbell called the Innermost Cave. The place where you don't know what to do or how to go forward. The place of the fog. May you face it, as in innovator, with grace and with clarity. May you know when to travel and when to stay put. May you become comfortable with those times of mystery. That, too, can be a fight! May you know when to leap and when to let the storm pass from your seat.
Because being an innovator is an initiatory process, again and again. It doesn't just stop with your first sale, your first speech, or your first business. You are drawn down, again and again, knowing each time that there are gifts are on the other side. Even if you have to pass up a lot of tempting free vouchers to get there.