The Future is Yours to Tell
LEGEND OC COLLABORATORY
 For Purposeful Orange County Leaders
Legend is a leadership storytelling pod focused on transforming Orange County leadership by increasing trust, authenticity, and memorability among your audiences.
Cohort Starts September 6
In this six-month collaborative course, you will work with other local leaders to elevate your presence, your purpose and your confidence, while you:
Shape your insights, lessons and memories into compelling, meaningful stories
Build confidence in your presentations and strengthen your skills in speech crafting and delivery
Learn the why, what and how of retellable storytelling
Cultivate content ideas for months to come as you elevate your social posts, writings, podcasts, videos, pitches and key leadership moments
Become a better story-listener and a better leader
Test and try new material as you tell and retell stories with enhanced embodiment
Create renewed purpose through your new living story which connects all of your stories
Sign up now - Only three spaces available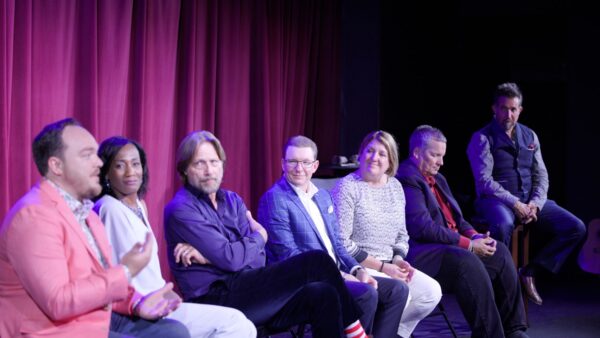 Who is this for?
The Legend Collaboratory is for executive leaders who want to activate their audiences through deeper purpose.
It is for non-profit leaders and entrepreneurial visionaries with big ideas to bring to the world.
It is for those looking to gain confidence, presence and growth, and the ability to truly guide, galvanize and empower those around you.
If you are yearning to write a new future through authenticity and purpose, compelling true change by live, virtual or social means, this experience is for you.
Duration:
Six Months
Cost:
$3,000 total if paid by August 20 / $3,200 after August 24
Or $600/month for six months if paid before August 24 / $650/month after
Partial scholarships available.
Time Commitment:
One three-hour group Zoom or live meeting (Quarterly in-person)
One virtual office hour every month
One 1-on-1 coaching session every quarter
One 1-on-1 cohort story meeting per month
Estimated three hours/month of developing on your stories
Class Dates
Three-hour session: First Wednesdays of each month 3-6pm
Office hours: Last Wednesdays of each month 3-4pm
Cancellation
You can cancel at any time and receive credit for a future class or coaching.
Contact: Email here for sign-up details and for more information.
Led by Author, Storytelling Coach and Keynote Speaker Jay Golden 
Jay Golden works with visionary leaders who are changing the world every day through their words and their actions.
Whether the goal is a presentation to your most select stakeholders, a story of deeper purpose to meet these changing times, the speech of your life in front of 5,000 people, or a collection of stories to integrate and clarify your diverse journey, Jay works to help his clients share their ideas in a fulfilling, effective, and integrating manner. Over 12 years, Jay has coached hundreds of leaders to come into their most authentic, powerful voice.

But these are not all grand stories. They sometimes start small, with an untended insights or stories that carry undiscovered meaning. But they gain power as they come to life; and not just for the listeners.
"For a story to change the world," Jay says, "It has to change you first."
As a speaker and trainer, Jay has traveled the world, from Amsterdam to Marrakesh to Sydney, inspiring and guiding audiences by reflecting the power of their own lived experience. His book, Retellable: How Your Essential Stories Unlock Power and Purpose, is a guide to crafting a collection of  insightful, relatable stories in life and leadership.
While not seeking stories, Jay can be found navigating the rivers and mountains of Ashland, Oregon, making memories with his family.